The Rev. Sarah Shofstall has served as Interim Rector of Christ Church since September 3, 2019. The Rev. Shofstall joined the Trinity Cathedral clergy staff on July 1, 2018 as priest associate where she oversaw adult formation, liturgy, pastoral care and other Cathedral ministries. Previous to Trinity, the Rev. Shofstall served as Rector of St. Barnabas Episcopal Church, Bay Village from 2012 until 2018. Before St. Barnabas, she served as Canon of the Ordinary for the Diocese of Western Massachusetts and rector of Grace Episcopal Church (Amherst, MA). While Canon of the Ordinary, she served as Transition Officer, assisting congregations seeking new clergy leadership.
The search for a new Rector is underway; see Search for a new Rector.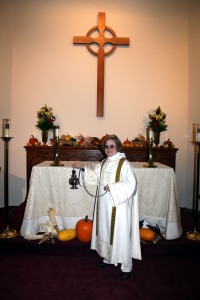 Rev. Jane Trager has a Master's Degree in Tudor/Stuart History from the University of Buffalo in Buffalo, N.Y., and has been at Christ Church since the mid-1980's. For many years she was a reporter with The Chronicle-Telegram. She now serves as a Program Specialist working with drug addicts and alcoholics with the Lorain/Medina Community-Based Correctional Facility. Deacon Jane was ordained to the diaconate in 2010 thanks to the support of the Rev. Brian Wilbert and the congregation of Christ Church.
Jane loves her Kindle, books on ships and the sea, mysteries, and novels written by young and not so young Indian authors. She has lived for many years in Elyria with her dearest friend Amy, and is now joined by Amy's brother, David, and Amy's youngest daughter (and Jane's youngest goddaughter) Mona, and Mona's husband, Erik. Mona has recently returned from the Peace Corps, having been stationed in Guatemala where she met Erik, and is now working at as economic development officer for Lorain County.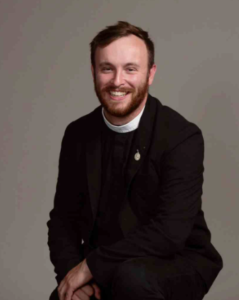 Raised in Boise, Idaho, The Rev. Gregory Stark came East to attend Kenyon College (Class of 2013), where he majored in Religious Studies. As a student he was active with the Canterbury club and with Harcourt Parish Episcopal Church. Following graduation, Fr. Greg served with the AmeriCorps program, City Year Cleveland, working with ninth grade students at John Adams High School on literacy, behavior, and attendance. He has a Masters of Divinity from Yale Divinity School, and his diploma of Anglican Studies from Berkeley Divinity School at Yale (both 2017). Fr. Greg has a passion for monasticism, queer theology, baking bread and cooking for friends, ecumenism, and building bridges across the Anglican Communion. His love of poetry regularly creeps into his sermons, to the delight of the congregation. He shares his time and ministry across Lorain County, as a part of a new venture by the Episcopal Church in Lorain County, and leads a shared youth group (grades 6-12) for three churches. He also maintains strong ties with students at Oberlin College and takes an active part in the Province V Campus Ministry Network of the Episcopal Church.